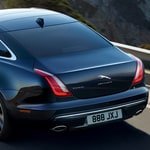 If you're looking for the ideal luxury sedan, the Jaguar XJ magnificently designed Jaguar XJ needs to be a consideration. Th Jaguar XJ is regarded as an industry leader in no small way than because of its stellar interior and exterior features.
The Jaguar XJ exterior features include a floating roofline designed to emphasize the sleek appearance of the sedan. In addition, the Jaguar XJ has an overall teardrop design that not only catches the eye but makes the sedan highly aerodynamic. This feature enhances fuel efficiency and lowers the car's carbon footprint.
If you would like to learn more about the array of wonderful exterior feature on the Jaguar XJ, you need look no further than the friendly professionals at Jaguar Huntsville. The team can provide you with all the information you need regarding the car. In addition, you can take the Jaguar XJ for an all-important test drive.