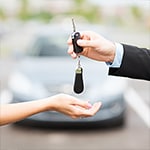 To be happy with a used car purchase, you should take steps to improve the experience. Don't worry. Many steps involve only performing a small amount of work. Investing time in consumer research to determine the features and overall costs of a make and model requires little effort. That effort pays off by sending you in the direction of the right vehicle.
You also should understand all the costs associated with the purchase. You want to buy something that fits your budget, and the budget includes various costs associated with ownership. Some vehicles get better gas mileage than others, and some require less maintenance.
As for the specific model you intend to buy in Huntsville, you need to know the history. You should learn the number of previous owners, how often it was serviced, and if the car was involved in any accidents.
And you'll want to take a test drive. Our team at Jaguar Huntsville will help you do so.